Rafting and white water rafting are recreational activities located in Jinja along with the source of the Nile (the world longest river) about 83 kilometers from the Kampala city over 2 hours and a half drives. The adventure of a lifetime waits for white water rafting is not only adrenaline putting adventure sport, but it acquires a whole new dimension when experienced on the Nile.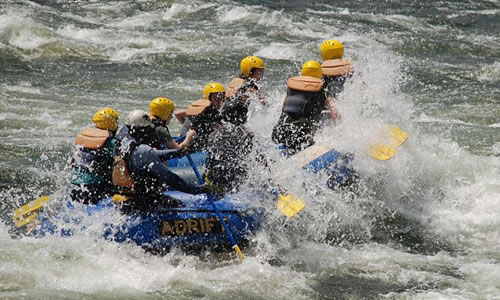 Rafting with Nalubale In 1996, Adrift and Nile River Explorers started commercial white-water rafting on the upper section of the Nile from Bujagali Falls. Because of the high volume of water (approximately 1 million liters per second), the white-water activities in the area are particularly safe – so long as you are wearing a life jacket and with experienced guides you can enjoy the ride and natural beauty along the Nile without the danger, but with lots of adrenaline rushes. Over the last 18 years, many other adventure tourism activities have been established and Jinja district now proudly bears the label of East Africa's center for adventure
The white water rafting experience on the Nile is considered as one of the best in the world they appear the Nile which includes a section from Jinja down to the Bujagali falls are some of the rivers. There are only two refutable rivers in Africa, the Nile and the Zambezi in southern Africa. But the Nile has seven times the water volume found in the Zambezi and hence creates much more thrilling rafting experience. The rapids on the Nile are not only powerful but have a higher water volume.
The beautiful of rafting on the mighty Nile in Uganda is that there are series of interludes that break the rapids and offer calm water that allows rafting not only a much need breather but also get to soak in the spectacular views of the surrounding land escape having a water volume that is seven times more than its closest river the Zambezi in Southern Africa the white Nile offers a high thrill and pushes the adrenaline pump a notch higher as the pace is also quicker
Nile rafting facts
The rapids create a spectacularly massive wave.
One-day rafting trips can over a distance of up to 25km downstream but one can opt to cover a shorter distance
A two-day rafting trip that includes camping cover a distance of about 45km
The White Nile rapids are graded as 4+and 5and when combined with huge water volume, provide the best water rafting experience in the world
One-day rafting trips can over a distance of up to 25km downstream but one can opt to cover a shorter distance.