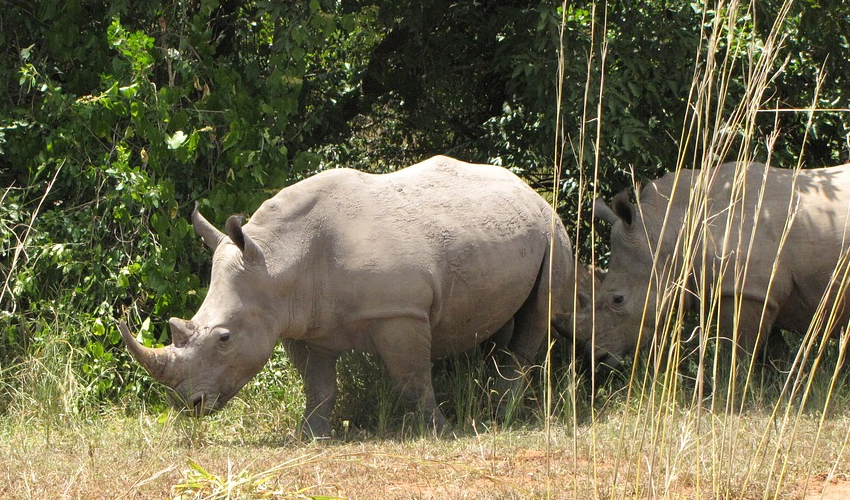 Rhino Trekking at the Ziwa Rhino Sanctuary
Ziwa Rhino Sanctuary is located in Nakasongola district barely 180km from Kampala and is the only place in Uganda where rhinos can be found in their natural habitat. It was 2005 when the Ziwa Rhino Sanctuary set up by Rhino Fund Uganda together with the Uganda Wildlife Authority (UWA) to address the plight of the rhinos and ensure their safety, with a goal of eventually releasing them back into the wild. There are over 70 park rangers whose job is to ensure the general well-being and safety of the rhinos and assist tourists in spotting the rhinos during tracking. The sights and sounds of the sanctuary making a home of mammals, birds, and reptiles are enriching.
The rhinos are free to move around on 7000ha of land, it is often necessary to drive to the areas where the rhinos are, before taking the bus trek. This drive is done in your own vehicle; however you can hire one of Rhino Fund Uganda's vehicles and a driver, just ask at reception for the costs. It is also a refreshing walk through the Savannah for a guided nature walk.
Trekking Rhinos
Tracking rhinos take about one to two hours, depending on the location of the rhinos and is done on foot unlike another typical game drive; you will get the opportunity to watch these endangered, magnificent creatures in their natural habitat. While at the sanctuary, you may also encounter a range of other wildlife species including Uganda kobs, oribis, bushbucks, waterbucks among others and a number of other bird species.
Bird watching in the sanctuary is an ideal place for bird lovers with over 300 bird species are found here, the bird trails in the sanctuary cover the swamps, Savannah, and woodlands which take over 2 hours with informative guides which are excellent in ticking off the bird list. The tracking activity necessitates one to have closed shoes, long pants, water, and insect repellent.