The 3 Days Uganda Gorilla Trekking Safari Tour is a lifetime experience. Gorilla trekking is done in Bwindi Impenetrable National Park which covers an area of 321 sq km and is among the oldest forests lasting over 25,000 years. You will be able to trek one of the 19 habituated mountain gorilla groups. Besides the Gorillas, you will also have an opportunity to see other primates such as the red-tailed monkeys, chimpanzees, baboons, black and white colobus monkeys among others. This forest is also home to 130 mammals, 51 reptiles, 310 butterfly species, 27 species of frogs, geckos, chameleons, 163 tree species, 104 fern species, 1000 flowering plants, as well as over 350 species of birds such as the hornbills and the Turacos. Gorilla trekking takes around 2 to 8 hours, which is worth it as those into hiking will have a great time climbing up and about the rolling hills, and going through the lush vegetation.
Day 1: Travel to Bwindi National Park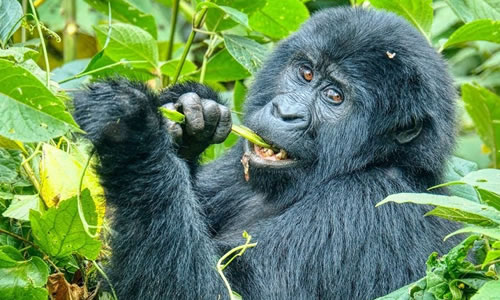 Depart Entebbe\Kampala for your first day of Uganda Gorilla Trekking safari which takes about 8 hours drive. Bwindi Impenetrable Forest National Park located in south western Uganda. The journey is quite a long drive but worth it because you get to enjoy the countryside scenery, some of the most beautiful natures images all the way to the Virunga massive. Keep your cameras near to capture that beautiful moment. You will have an en route stopover at the Equator crossing for photographic and simple experiment before continuing to Mbarara town for Lunch. After lunch, you will embark on your scenic drive to Bwindi National Park for Dinner and overnight at Rushaga Gorilla Havens Lodge/ Trekkers Tavern Lodge/ Mahogany springs.
DAY 2: Gorilla Trekking in Bwindi National Park
After an early morning breakfast, you will drive to the Park headquarters for registration and joining others for a gorilla trekking briefing about the dos and the don'ts during your Uganda Gorilla trekking safari tour. Once this is done, you will trek through thick forest with your guides to find the Gorillas, which can take you from half an hour to six hours. The steeply forested landscape is incredibly dense but crisscrossed by numerous animal trails allowing access to tourists. On your trek, you are likely to spot other primates, birds and rare tree species. After finding the gorillas, you will be allowed to spend one hour with them before trekking back to the Park headquarter. There after you will be awarded a certificate for participating in gorilla trekking and thus contributing to the conservation of mountain gorillas.
Later in afternoon, you will take village walk which will offers you a great chance to see how the people surrounding Bwindi Impenetrable Forest. The walk begins with your tour guide at Buhoma Community Rest Camp and who is resourceful about the community, the walk is worthy while. It will amaze you how resourceful the local people are as you see and learn their ways and it also a great way to support the local community in a direct way. Overnight at Rushaga Gorilla Havens Lodge/ Trekkers Tavern Lodge/  Mahogany springs.
DAY 3: Drive to Kampala / Entebbe Airport
After your morning breakfast, you will be driven to Kampala/Entebbe, you will have an en route stopover at Igongo culture center to explore the culture of Ankole region and then embark on drive to Kampala/Entebbe Airport.
End of the 3 Days Uganda Gorilla Trekking Safari Tour.
The 3 Days Uganda Gorilla Trekking Safari Tour package includes;
Airport transfers
Safari vehicle Services of an English speaking driver guide
English driver guide
Accommodation and meal plan as per the itinerary
All park entrance fees
Igongo culture center
Drinking water while in the vehicle
Gorilla permit per person
Ranger fees
Community walk
The 3 Days Uganda Gorilla Trekking Safari Tour package excludes;
International flights, Personal Travel insurance, Visa Fees, drinks, cigarettes, tips, souvenirs and any other items of personal nature.