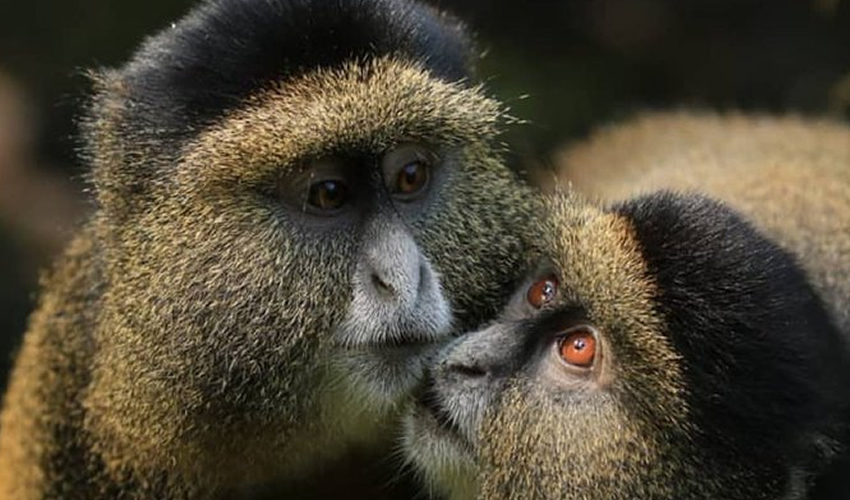 Golden Monkey Trekking in Uganda and Rwanda
Golden Monkeys are beautiful primates are social animals and they live in big numbers in a collection of nuclear families with a Dominant male and several females. These monkeys are small in size and are not shy compared to other primates (Gorillas and Chimpanzee) and on the trek, you can come so close to them. Golden monkey trekking is done in two countries Uganda and Rwanda, Golden Monkey trekking in Uganda is done in Mgahinga Gorilla National Park which located in the south west of Uganda.
Mgahinga National Park is part of the Virunga conservation area and this Park is blessed with primates which are the most famous and rear Golden Monkeys and Mountain Gorillas. Mgahinga National Park is the best Park to trek the rare primate species which are over 4000 golden monkeys in the jungle. It takes all day trekking compared to 4 hours for the normal Golden Monkey, tracking golden monkeys in Mgahinga National Park is a unique experience which is really cool to walk through an all bamboo forest. The monkeys are absolutely gorgeous, their colors magnificent. They live high up in the bamboo trees, jumping from one to the other, and were a bit hard to clearly photograph, the hike to the monkeys is easier than the gorilla tracking. If you are a hiker and used to hiking in hilly terrain, then the hike is easy.
Golden Monkey Trekking in Rwanda is done In Volcanoes National Park which offers you thrilling experience that gives an impressive happenstance with these beautiful species of monkeys known as the Golden Monkeys. These have also got a prominent golden fur coat, and this also adds to their unique attractiveness and is so lovely to look at and give exceptional photography. The golden monkey expedition is also dominated by the famous gorilla trek and therefore mostly done as an additional activity to gorilla trekking in Volcanoes National Park
Here there are (2) golden monkey groups which can be visited in Rwanda. These are located at Mt Sabinyo with the bigger group having about 90 individuals, you then start on the trek and on locating the monkeys you spend 1 hr with the primates and then trek back out of the forest to the lodge for other optional activities.
Cost of Golden Monkey Permits
One trek golden monkey has to obtain a golden monkey trekking permit has to be purchased just like for mountain gorillas and chimpanzees permits. Uganda and Rwanda golden monkey permit price are different, in Rwanda golden monkey permit cost $100 per person and there is no golden monkey habituation experience in Rwanda in Volcanoes National Park while in Uganda, a golden monkey trekking costs $50 per person and golden monkey habituation experience cost $ 100 per person both activities is done in Mgahinga National Park. The permit can be received from the National Parks head offices. This activity is carried out only in Mgahinga and Volcanoes National Park and a maximum of six people are allowed to interact with the golden monkeys in the wilderness. Age limit for those interested in trekking golden monkeys is 12 years much as it is not as strict as gorilla trekking.