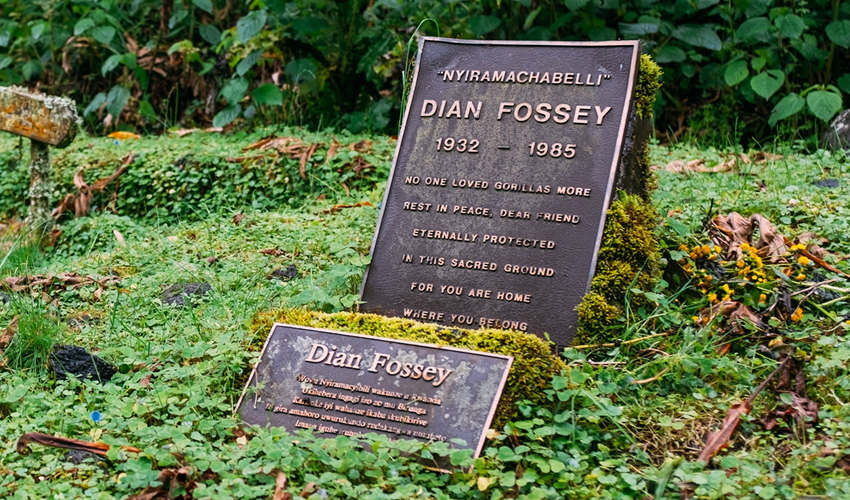 Dian Fossey Hiking Experience in Rwanda
The Dian Fossey Hiking Experience in Rwanda is a kind of activity that tickles your entire being of a hike to the graveyard of Dian Fossey, here it goes that she was an American primatologist who sacrificed her life to save the mountain gorillas is worth doing. The Dian Fossey graveyard hike is a learning experience for travelers providing them with the in-depth understanding of the start of gorilla tourism in Rwanda and how an America primatologist sacrificed her life to save the rare mountain gorillas that were at the verge of extinction by then.
This hike is an incredible experience physically, emotionally and intellectually. It is so inspiring to learn about someone who was so dedicated and left a legacy that exists even today. The hike involves moving through the forests and hiking up the slopes and therefore requires some relative degree of fitness and patience. Hiking expects to meet these gentle giants and other wildlife like golden monkeys. Travelers normally wake up early and transfer to Kinigi at the headquarters of Volcanoes national park for a short briefing regarding safety. You then follow a trail outside the dense forest providing them with an opportunity to clearly see the Virunga volcanoes especially Karisimbi and Bisoke after which the Karisoke research center was named. Besides gorillas, the hiking trail is also a paradise for birders being a hem to a variety of bird species some of which are endemic to the Albertine rift valley and stands at an altitude of roughly 2900m to 3000m above the sea level. On reaching the site, you will witness the grave for Dian Fossey and many others for the mountain gorillas that were killed before and after her by poachers.
Hiking the Dian Fossey Tomb is one of the most sought after safari activities carried out while visiting Volcanoes National Park for a gorilla trip. The trek involves a 30 minutes drive from the park headquarters to the trailhead to access the Karisoke research camp where visitors walk for 10 minutes to the park boundary. The walk takes about an hour to 1 hour and a half hour and affords good views of forest hogs, forest elephants, a variety of primates and bird species.