Volcanoes National Park lies in northwestern Rwanda and borders Virunga National Park in the Democratic Republic of Congo and Mgahinga Gorilla National Park in Uganda. Volcanoes National Park is known as a haven for the rare and endangered mountain gorilla and golden monkeys. It is home to five of the eight volcanoes of the Virunga Mountains (Karisimbi, Bisoke, Muhabura, Gahinga, and Sabyinyo), and spans 160 km2 covered in rainforest and bamboo in the northern part of Ruanda in Rwanda. The Park encompasses a dramatic landscape of wildlife, rainforest, and active and extinct volcanoes which is purely a life-changing adventure. Volcanoes National Park reward travelers with close encounter to the endangered mountain gorillas in their natural habitats.
Wildlife in Volcanoes National Park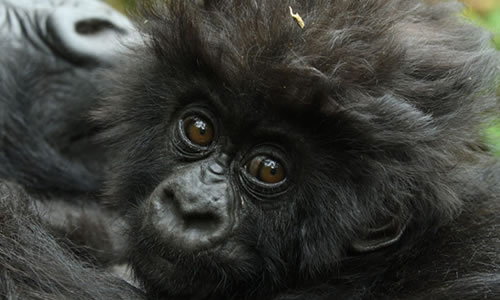 Wildlife in Volcanoes National Park comprises of flora and fauna which co-exist in the National Park. Different wildlife is found in different altitudinal ranges both in highland and others in lowland areas. The Park is home to Mountain Gorilla and other mammals include golden monkeys Spotted Hyena, buffaloes, forest elephants, black-fronted duiker, and bushbuck. The bushbuck population is estimated to be between 1760–7040 animals. There are also reported to be some elephants in the Volcano which are rare to observe. The park results in extensive bamboo forests and some of the last remaining afro-montane forest habitat on the planet, and habitat of thick moors with endemic giant lobelia and groundsel. There are around 200 species of bird species, with at least 13 species and 16 subspecies endemic to the Virunga and Ruwenzori Mountains
Birdlife in Volcanoes National Park
Volcanoes National Park is home to over 300 bird species, which has made birding safaris a success to bird lovers. The commonly seen bird species include African marsh harrier, common moorhen, long-crested eagle; grey throated it, paradise flycatcher, red-faced woodland warbler, archer's round robin, Rwenzori Batis, Rwenzori double collared sunbird, and handsome francolin among others. Birding in Volcanoes National Park begins in the morning with a briefing and then together with the well trained and experienced guides help to spot these birds and explain the unique features of each bird species as you enter the jungle to search for the different bird species that live in this forest.
What to do
Gorilla trekking
Gorilla trekking is the key point of attraction in Volcanoes National Park which attracts the highest number of travelers from all parts of the world. Gorilla trekking is the best wildlife lifetime experience every traveler should not miss while on your tour safari in Rwanda. Volcanoes National Park hosts over 480 mountain gorillas according to the last census in last year, which has been habituated into 10 families available for trekking, making the most exciting moment and thrilling experience while in Rwanda. While here, you're allowed to stay with them for an awe-inspiring hour, often crouching just a few feet away, whilst the gorillas go about their daily lives which can't leave you the same after offers unforgettable lifetime experiences.
Golden monkey trekking
Golden monkey trekking is one of the most endangered primates in Africa which is another popular tourist activity in Volcanoes National Park in Rwanda. The Golden monkeys have a striking golden fur coat and add to their spritely character, are quite lovely to watch and offer excellent photography making it an exciting adventure that offers an epic encounter with a rare and beautiful species of Golden Monkeys. The golden monkeys are endangered species and are unique to the Virunga mountains range which covers the Democratic Republic of Congo, Rwanda, and Uganda. Rwanda and Uganda are the only two countries where visitors have the opportunity of trekking to see them up close. This is incredibly entertaining as they amuse themselves swinging through the bamboo or racing after one other in circles around and above you. Blending in perfectly with the golden bamboo, they are very pretty; with shiny reddish-gold backs as it splashes the excitement with you.
Bird watching
Volcano National Park is an ideal and stunning landscape for bird enthusiasts and is a home of over 300 bird species such birds can be observed are the Red-Faced Barbet, Shoebill Stork, Bennett's Woodpecker, Papyrus Gonolek and the Miombo Wren-Warblers which can appeal to every level visitor – from the absolute novice. Birding watching in Volcano National Park offers you 27 species endemic to these Virungas plus the Rwenzori mountains; like the Rwenzori turaco which is among the most beautiful birds within these montane forests, and the handsome francolin and there is more chance to view some of the 27 Albertine Rift endemics.
Hiking mount Karisimbi
Climbing Mt Karisimbi is a strenuous yet very rewarding hike which is normally done as a complement to gorilla trekking and all done within Volcanoes National Park.  Hiking Mt Karisimbi offers you a panoramic view of several bird varieties, primates like monkeys and Gorillas since the volcano lies in the primates' Park of Parc National des Volcans (Volcanoes national park). It is also known for its exotic plants in its four belts of vegetation, from the dense forest at its base to the barren volcanic core at the summit.
Visiting Iby'Iwacu Cultural Village
Iby'Iwacu Cultural Village gives you a rare chance to meet local people, in their environment, with a taste of our culture and traditions. Be genuinely welcomed by the community as a special visitor while they proudly present to you aspects of their traditions and beliefs. The only way to get to know people is getting close and interacting with local people, and taking part in their daily activities and most of all with them.
Dian Fossey Tomb Tour
Trekking to the Dian Fossey Tomb is one of the most interesting activities after Gorilla trekking activity while visiting Volcanoes National Park for a gorilla trip. The trek involves a 30 minutes drive from the park headquarters to the trailhead to access the Karisoke research camp where visitors walk for 10 minutes to the Park boundary.
Nature walks
The nature walk is the best way to explore and experience Volcano National Park. The Park has numerous walking trails, one of the most popular walks will lead you to the Musanze market, where visitors can interact with the local people, other nature walk leads you to the beautiful Twin Lakes of Burera and Ruhondo. The Nyange Community walk is designed to show all aspects of village life in Rwanda, the trail continues to the homes of ironsmiths, mat weavers, local banana-beer brewers, and carpenters as a source of earning. These high mountains offer some of the finest views within Rwanda.
Best time to visit Volcano National Park
Rwanda can be visited all year around /anytime of the year. However, June to Mid-September and December to February is the best time to visit Rwanda for Gorilla trekking. For those who want to trek and do canopy walks this is the best time because the trails are dry and passable. However, March to May and October to November are the rainy months in Rwanda. This, therefore, means that the activities you plan may still be achievable.
Where to stay
Volcano National Park offers you accommodation which is on international standard including Mountain Gorilla View Lodge-luxury, Bisate Lodge-luxury, Virunga Lodge-luxury, Sabinyo Silverback Lodge-luxury and Five Volcanoes Boutique Hotel-luxury, La Palme Hotel-midrange, Garr Hotel-midrange, Le Bambou Gorilla Lodge-midrange, Gorillas Volcanoes Hotel-midrange, Da Vinci Gorilla Lodge-midrange and Garden Place Hotel-midrange, Hotel Muhabura-midrange, Kinigi Guesthouse Kinigi-midrange and Villa Gorilla
How to get there
Volcanoes National Park is located in a small village called Musanze previously well-known as Ruhengeri, which is very accessible by public transport from Gisenyi or Kigali or from the airport. The drive to Volcanoes National Park is 2 hrs and hence one can do gorilla tracking on the same day and drive back to Kigali after the trek.