Queen Elizabeth National Park is one of Uganda's most famous national parks and traveler's destination situated in the western part of Uganda in Kasese district close to mountain Rwenzori. The Park is one of the most popular tourist destinations in Uganda mainly because it is home to a variety of animal and bird species including the fascinating tree climbing lions of Ishasha. The park is approximately 400 kilometers from Kampala of about 6 hours. Queen Elizabeth National Park is known for its variety of wildlife and several beautiful crates lakes that wind through the rolling hills, the panoramic display of the Kazinga channel with an awesome view of the hippos, buffaloes, elephants and several bird species lined up at the shores.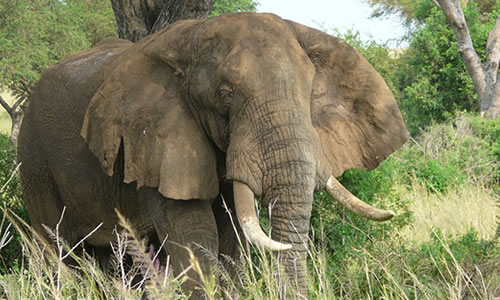 With a continuation towards Ishasha sector plains, another surprise of tree climbing lions resting on trees waiting to pounce on the Uganda Kobs and other preys will blow one away. Queen Elizabeth National Park sites on 1,978 km² with an extends from Lake George in the north-east to Lake Edward in the south-west and includes the Kazinga Channel connecting the two lakes.
Wildlife
Queen Elizabeth National Park harbors numbers of mammals of about 95 mammals which including  African buffalo, Ugandan kob, hippopotamus, Nile crocodile, African bush elephant, African leopard, lion, and chimpanzee. Crocodiles have only recently been seen in the Kazinga Channel where they had disappeared for 8,000 years after they were eliminated from Lake Edward by toxic ash from local volcanoes. The park is famous for its tree climbing lions and also its volcanic features, including volcanic cones and deep craters, many with crater lakes, such as the Katwe craters, from which salt is extracted.
Birdlife
Queen Elizabeth National Park host of about 619 bird species making the second highest Park in Africa and the 6th highest Park in the world, this remarkable number is enabled by the park's diverse habitats. Shoe Bill, Martial Eagle, Eagle Owl, Papyrus Gonolek, Lesser & Greater Flamingoes, White-tailed Lark, Verraux's Eagle Owl. There are more than 95 mammalian plus numerous species of butterflies.
What to do in Queen Elizabeth National Park
Boat trip on Kazinga Channel
Boat rides along the Kazinga channel are the most popular activity to the mouth of the Kazinga Channel, this connects Lake George to Lake Edward provides the park's prime wildlife spectacle and its shoreline attracts large numbers of birds, mammals which reptiles year round over 40km long channel.
Game Drives
Game driving in Queen Elizabeth National Park is usually done early morning or evening hours. Driving in the open savannah grasslands, where you can spot a variety of animals including buffalos, elephants, Uganda kobs, warthogs, bushbucks, impalas, lions, leopards, topis, sitatungas among others. Night game drive is available where visitors can spot nocturnal wildlife species.
Chimp tracking in Kyambura George
Chimpanzee trekking in Kyambura Gorge in Queen Elizabeth National Park is one of the most popular tourist activities as tracking experience before; they embark on tracking chimpanzees in the 16-kilometer long Kyambura gorge.
Nature walk
Maramagambo is notable for its primate and bird populations. Trails explore the forest around Lake Nyamusingire. Wildlife sightings vary from day to day, but guaranteed events include the Bat Cave with a resident bat-hungry Python and the copper-rich Blue Lake.
Bird watching
Queen Elizabeth National Park boasts over 616 bird species. You can encounter them by using experienced guide and they know the most interesting bird spots around swamps, lakes, along Kazinga channel and another interesting habitat of the Park such birds includes Shoe Bill, Martial Eagle, Eagle Owl, Papyrus Gonolek, Lesser & Greater Flamingoes, White-tailed Lark, Verraux's Eagle Owl.
Mweya Peninsula
The Mweya Peninsular has got great accommodation facilities and is great for sightseeing, with great views of the Park. Visiting with a guide is the best way to explore this as the guide will give you all the information you need as you go. The Mweya Information Center also provides all the necessary information about the Park as well as the Mweya Peninsular.
The Equator
The Uganda Equator is where the northern hemisphere meets the southern hemisphere and is a great place for taking photos. There are also craft shops where tourists love to buy souvenirs.
Where to stay
Queen Elizabeth National Park has luxury accommodation that will favor all travelers which include: Jacana safari lodge, Mweya safari lodge, Ishasha Wilderness Camp and Kyambura Gorge Lodge. Budget accommodation includes Simba Safari Camp, Ishasha bands with average standards that will make your stay memorable. The Park also has camping sites such as Maramagambo, Ishasha, Hippo Hill Camp and Kingfisher camp.
How to get Queen Elizabeth National Park
From Kampala, Queen Elizabeth National Park can be accessed through Mbarara or Fort Portal. The park is approximately 410km from Kampala and it takes about 6 hours to get there from Kampala by road. Visitors tracking gorillas in Bwindi can easily access Queen Elizabeth National Park through the Ishasha sector. By air, visitors can fly from kajjansi to Mweya on the daily flight.