Nyungwe Forest National Park situated in the South Western part of Rwanda at the border with Burundi, and it sits on an area of about 1020 sq.km on an elevation of 1600-2950m above sea level. Nyungwe forest is said to be the largest and best preserved montane rainforest in the whole of East and Central Africa which receive an annual 2000mm of rain. Nyungwe National Park is an important water catchment for Rwanda and contains many natural resources that are quite useful to the Rwandan people. The beautiful green forest is also quite important to two of Africa's great rivers. The rain that falls on the east side feeds the Nile and on the west runs to the Congo. The Nyungwe forest protects more than 1,000 plant species, at least 120 butterfly species, 310 bird species, 13 primate species, and 38 reptile species – according to the Rwanda Development Board, the state-run agency in charge of the country's flora and fauna.
Wildlife in Nyungwe Forest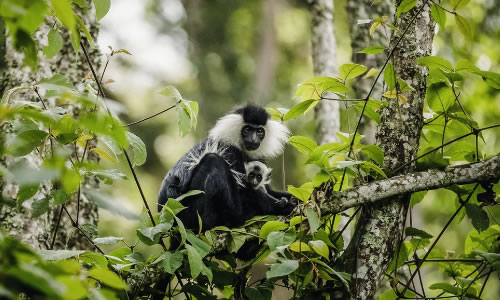 The Nyungwe forest has a wide diversity of wildlife species, nature and also a diversity of habitats for tourist to explore. The Nyungwe forest making it a priority for conservation in Africa, Nyungwe Forest National Park harbors habituated chimpanzees and 12 other primates species (including a 400-strong troop of habituated Rwenzori Black & White Colobus), it's also a birder's paradise with over 300 species, including 16 endemics, and is home to 75 different species of mammal. Sounds and views collaborate to create a one-of-a-kind wildlife experience. Exploring through the forest, travelers will witness the lush green. The sounds and picturesque sites of Nyungwe Forest intertwine to create a unique wildlife experience. As you're looking to do a Rwanda safari in Nyungwe National Park, Trek through the forest in search for chimpanzees, Colobus Monkeys or Birds. Or opt to hike on the sidelines of the forest during the Congo Nile Trail trek to get exciting views of this dense forest.
Birdlife in Nyungwe forest
Birding trip in Nyungwe Forest is best done in Butare up to Cyangugu route, all these offer exceptional sights. Nyungwe National Park is home to over 310 bird species are all confined in the park with 121 forest birds, 27 Albertine rift endemics especially the Chapin's flycatcher, Rockefellers' sunbird. This virgin destination is ranked as the best birding safari destination in Rwanda. Still here, 11 out of 23 Guinea-Congo forest biome species and 71 out of the 74 of the afro tropical highlands that are inhabited in Rwanda are all concentrated in this park. Nyungwe forest is also the most vital forest for the conservation of montane birds in the region. Nyungwe forest consists of well kept walking trails through the forest to different waterfalls and viewing areas. The great blue Turaco, the rare Grauer's rush warbler and a quasi as Red collared mountain babbler are some of the rare species to sight in this virgin jungles of Nyungwe National Park.
What to do
Chimpanzee trekking
Tracking chimpanzee makes the experience more enjoyable as you get near the chimps, there is no time limit in viewing chimpanzee as long as you can be able to keep up with their pace as they move from one place to another. Nyungwe Forest hosts over 400 species of chimpanzees, makes it a popular activity in Nyungwe (especially when the park's trees are in full bloom during the summer) as well informative guides often lead you through the park's forests where the chimps are moving constantly around at high speeds, jumping from tree to tree making noise which is most likely to be seen early in the morning and in evening. The habituated chimpanzee group in Nyungwe forest is also bigger with about 60 individuals and due to the greatness of the forest and terrain, it gives few chances of seeing the chimps, while the group in Cyamudongo forest that has a smaller number of over 30 chimps giving the most successful sightings that are given in the small size that is covered to find the chimps in any part.
The primate of Nyungwe
The 13 primate species that occur in Nyungwe Forest are a remarkable figure in East Africa which is compared only to Uganda's Kibale Forest. The most of the celebrated of these primates include the Rwenzori Colobus which is also a race of the widespread Angola Colobus that is restricted to the Albertine Rift. And snow-white whiskers, snow white whiskers and there is a semi-habituated troop of over 400 and are residents in the forest around the campsite and the largest troop of the arboreal primates in Africa or elsewhere in the world. There are also the Chinese golden monkeys that move in groups of a similar number. Most of the monkeys in this park are Guenons, which is also a collective name for the taxonomically confusing Cercopithecus genus.
Canopy Walkway
Visiting Nyungwe National Park one can experience the rainforest from a new perspective: the Canopy Walkway, hanging 60 meters above the forest floor between giant trees and towers, East Africa's only Canopy Walkway provides a stunning view of the park's amazing wildlife and nature as a thrilling and rewarding especially to highly adventurous and fearless tourists. The Walkway is accessible as part of a specialized guided tour along the Igishigishigi trail or if you're not part of a tour, hiking the Imbaraga or Umuyove trails. Nyungwe Forest's canopy walkway takes only about 2 hours to complete, offering you nothing more than the spectacular views of the park's landscapes.
Hiking in forest Nyungwe National Park
Hiking Nyungwe forest takes you 130km through different trails that are found in Nyungwe National Park in Rwanda. The hiking trails takes a few hours to 3 days and there is also the canopy trail, the Rwanda source of the Nile, Ngabwe Trail, Bigugu Trail, Igishigishigi Trail, Kamiranzovu Marsh Trail, Isumo waterfall Trail, Karamba Birding Trail, Muzimu Trail, Imbaraga Trail, Irebero Trail, Umugote Trail, The Rukuzi Trail, Umuyove Trail and the Congo Nile Divide Trail and one can also opt a nature walks to the waterfalls and many other water streams in the forest that is homes to a number of amphibians like frogs with all this trail found in Nyungwe Forest National Park in Rwanda.
Isumo waterfalls
Isumo Waterfall is located five kilometers from Nyungwe House, the newest luxury lodge in the Park. The snaking Isumo Waterfall Trail is the most strenuous hike in Nyungwe forest which takes you through some steep ravines interspersed with slippery stretches with about 2.3 km descends into one of the most densely vegetated and steepest rainforest ravines on any trail at Nyungwe At roughly 17 m in height, it is even more impressive for the force with which it shoots through a narrow gap into a stunning amphitheater and.  Enjoying the forest's cool breeze, the sound of streams, the breathtaking views of trees – many of them endangered species – blanketing every vista, as well as a bit of camaraderie as you breath cool moist air and the murmur of a river rise from below as you are able to observe several species of primates which are mingled with calls of birds, tree frogs, and insects. The falls has a couple of birds and Black & White Colobus Monkeys that you could see in Isumo waterfalls.
Gisakura Tea plantation
Walking in Gisakura tea estate in order to adventure the variety of parallel ridges of tea plus the attractive mountains that provide a beautiful backdrop for the plantation especially to the tea lovers, visiting in working days (Monday to Saturday) you will be able to see friendly farmers picking the tea and collecting them in the baskets which are always willing to spare some time to greet the tourists.
Best time to visit Nyungwe
Tourists interested in primate tracks are advised to visit Nyungwe forest during the wet season. During the wet season, there is always plenty of food for the primates all over and they, therefore, do not move for long distances to look for food as during the dry season. Those interested in canopy walks, nature walks should visit the National Park during the dry season when there are minimal disturbances of rainfall that could disrupt the tourist activities.
Where to stay
There are a number of accommodations which will serve you in international standard   Nyungwe Forest Lodge, Nyungwe Top View Hill Hotel and Gisakura Guest House.
How to get there
Nyungwe forest national park is located in southwestern Rwanda, of about 225km and a 4-5 hour drive from Kigali. By air offer domestic flights and one of its domestic routes is Kigali-Kamembe.