Mount Elgon National Park lies on the border between Uganda and Uganda and is said to have the largest surface area of an extinct volcano in the world and a caldera which covers a total land expanse of 1145 sq km. Mount Elgon is an extinct Volcanic Mountain found on Uganda's border with Kenya. Mount Elgon National Park was named after the most significant natural feature with a height of 4321 meters above the sea level making it the fourth highest mountain in Eastern Africa, with the second-highest peak in Uganda (Wagagai Peak – 4321 meters).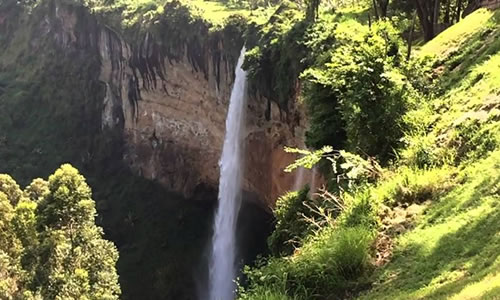 Mt. Elgon contains crater covering over 40 km at the top of the mountain, surrounded by a series of rugged peaks. Mt. Elgon is an extinct volcano that first erupted more than 24 million years ago.
Wildlife
Mt. Elgon Park has a diversity of mammal species among which are buffaloes, tinny antelopes, forest monkeys and elephants of fauna species found in the park. This country has prolific wildlife which attracts many tourists that come to experience this wonderful gift of nature of the country. You can watch many animals in their habitats, a rewarding experience that can be enjoyed throughout the year. The varied vegetation cover along the mountain slopes
Birdlife in Mountain Elgon
The Park hosts over 300 bird species of which 12 of the bird species found in Mt. Elgon have not been recorded in any other Park in Uganda among these are: Weyn's weaver, Jackson's francolin, Marsh Widowbird, Moorland Francolin, Alpine chat, Moustached green tinker bird, Hunter's Cisticola, Red-throated wryneck as well as the Black-collared Apalis. These birds include forest species and many endemic species specifically adapted to the montane moorlands of East Africa, among many others.
What to do
Trekking Mount Elgon
There are two main trailheads which lead to Wagagai: Salsa Trail (Buddukiro trailhead) is the most easily accessible from Mbale and is the most direct route to the peaks. It passes through the Park's largest area of bamboo forest. However, it is also a steep and rugged climb of over 1600m on the first day. Pisa trail (Kapkwata trailhead). Along this route, you can explore a vast Podocarpus forest, an excellent place for wildlife viewing. The full trekking circuit to the peaks takes 4-5 days to complete. All visitors are encouraged to discuss options with an Information Clerk at the Male, Budadiri or Kapkwata Visitors' Centers.
Hiking
The Forest Exploration Centre has three-day trails ranging between 3 and 7 km. These trails offer an excellent opportunity to experience Mt. Elgon's unique plants and wildlife in a shorter time period. A fourth trail has recently been opened to reach the enormous Tutum Cave, 11 km from the center. This trail also passes through a range of vegetation types and offers opportunities to see wildlife such as Black and White Colobus Monkeys and a variety of birds.
Sip falls
These falls are found on the foothills of Mountain Elgon just at the edge of Mount Elgon National Park near the Kenyan border to Uganda and it was comprised of 3 waterfalls each flowing from a different altitude such offers you thrilling experience.
Where to stay
Accommodation at Mount Elgon offers you best comfort facilities include Mbale resort hotel -luxury, Sipi river lodge-luxury, Lacam lodge-mid range, Mount Elgon hotel and spa-midrange, Masha hotel-midrange, Noah's ark hotel midrange, Sipi falls resort hotel-, midrange, and most crown rest camp-budget, Kapkwata guest house-budget, Rose last chance-budget and Suam guest house-budget
How to get there
Mountain Elgon National Park can be reached by the road where the drive takes about 4 hours from the capital city Kampala along a good tarmac road.