Mgahinga Gorilla National Park is located in the southwestern corner of Uganda which is well known for the mountain gorilla and golden monkey as the strongest pillars that rise out the Mgahinga Gorilla National Park. Mgahinga National Park is the best spot ever for golden monkey Park to trek the rare primate species which are over 4000 golden monkeys in the jungle. The Park covers the northern slopes of the three northernmost Virunga Volcanoes: Mt. Muhavura, Mt. Gahinga and Mt. Sabinyo. The Park is about 10 km south of Kisoro and is bordered to the south by the Republic of Rwanda and to the west by the Democratic Republic of Congo. Mgahinga Gorilla National Park lies 33.7 sq. km and consists of the partly forested slopes of three extinct volcanoes. From far away, the huge cones of the Virunga volcanoes dominate the landscape and beckon you as you approach. When you reach the park you can get a great overview of the area by walking up the viewpoint, just 15 minutes from Ntebeko Gate.
Wildlife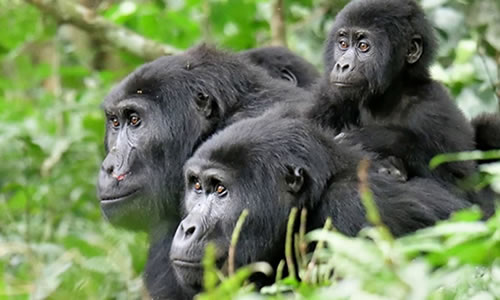 Mgahinga National Park hosts of about 39 mammals which including the Mountain gorillas, buffaloes, and elephants, also endangered golden monkeys. Others include; giant forest hogs, bushbucks, leopards, spotted hyenas, black fronted duikers among others. It also has around 79 bird species. The park has only one group that is tracked which is the Nyakagezi gorilla group, years before this group of Gorillas could move from country to country until it has to make Mgahinga it is home, now also permits for tracking gorillas in this park are now available in Uganda and you are advised to book in advance.
Birds
Mgahinga Gorilla National Park harbors the  unique birdlife of about  79 bird species within the  park and the entire Virunga conservation area has well over 250 bird species;   White-necked Raven, Black kite, Pin-tailed Whydah, Double-collared Sunbird, Speckled mousebird, Paradise, Fire Finch, Stonechat, Grey Capped Warbler, Waxbills, Yellow-Vented Bulbul, Alpine chat Alpine, Archer's robin- ground-thrush  and so many anthers.
What to do
Gorilla tracking
Trekking gorillas in Mgahinga National Park are the most breathtaking once awhile lifetime experience activity is done in the park, and it is only Nyakagezi gorilla group that is tracked in this park. Gorilla tracking starts the morning whereby the trackers start from Ntebeko to track these giants. The length of track could be 2 hours, 4 hours or a day since it is dependent on the location of the mountain gorillas. This is an incredible activity, as you move through the forests you will hear the sound of birds in the tree, monkeys, and other animals, something memorable and rewarding experience.
Volcano/Mountain climbing
There is nothing as thrilling and adventurous as hiking the 3 volcanoes (Mt. Muhavura, Mt. Gahinga, and Mt. Sabinyo) here at Mgahinga National Park you can climb each to the summit in one day, this offers you perfect experience and it needs one to be physically fit.
Birding
Mgahinga National Park has different bird species around 79 species and birding can be carried out through the bamboo forest, in the gorge between Mts. Sabinyo and Gahinga, and in the montane forest where you can easily see the Rwenzori Turaco and more bird species while here.
Nature walks
This is done around the edges of the mountains and it is a very interesting activity where hikers do it around the wild vegetation, bamboo forests, the Rugezi swamp which gives them a chance to have beautiful scenic views of agricultural areas, surrounding lakes like Lake Mutanda and also forest bird's species.
Golden monkey tracking
This park happens to be a habitat for the endangered golden monkeys, these are amazing to watch within the trees, and one should not miss out on this activity while on a safari in Mgahinga and is a most memorable experience.
Cultural Encounters
Over the years, Mgahinga with its thickets has been home to the indigenous group of the Batwa, whereby they stay, hunt, feed, and do all their other activities in the forests. So while visitors are in Mgahinga they can have a visit to the Batwa's homesteads to see how they live, dress, eat, dance among others, it's a culture like no other.
How to get to Mgahinga there
Mgahinga Gorilla National Park is 510km away from Kampala the capital of Uganda and you can get there by Road or Air.
On road, it is approximately a 9-10hours drive from Kampala to Mgahinga, that is around 8 hours to Kabale town covering 434km and there are more 76km to Kisoro town, this route is tarmacked and a bit mountainous and steep. There is also an alternative of using a route from Kabale town passing near the beautiful lake Bunyonyi and joining again Kabale-Kisoro tarmac. From Kisoro to the park it's around 14km to Ntebeko the park main entrance.
By air, it's very possible to book direct flight Entebbe International airport to Kisoro airfield, using flights saves more time and it is less tiresome.
Where to stay
There are various accommodation facilities in Mgahinga National Park such as mount Mgahinga lodge luxury, mcha hotel as mid-range, travelers nest hotel, Nkuringo safari lodge and budget accommodation Kisoro tourist hotel and Amajambere iwacu community camp.