Lake Mburo National Park is located in Kiruhura district in the Western Region of Uganda of about 240 kilometers from the capital city of Uganda- Kampala. The park is known as the closet National Park within Kampala, which takes you 3-4-hour drives, and it sites on 370km² in size being the smallest of Uganda's savanna National Parks.  Its mosaic habitat, dry hillside, rocky outcrops, bushes thickets, open and wooded savanna forests, lakes and swamps are home to a surprising diversity of plants and animals. Lake Mburo National Park is the newest wildlife which contains an extensive area of wetland which offers you a unique opportunity to see species of mammals and birds around this area, a varied mosaic of habitats and landscapes filled with forests known as Rubanga forest rich acacia tree valleys, grasslands with open savannah. Lake Mburo National Park is an extension of the Tanzania plain with the big hard of Zebra, buffalos, impalas, Elands, and antelopes, as you see many hippos wallowing in the water and the large crocodiles lurking on the shores. Birds include cormorant, fish eagle, pelican, heron and many more.
Wildlife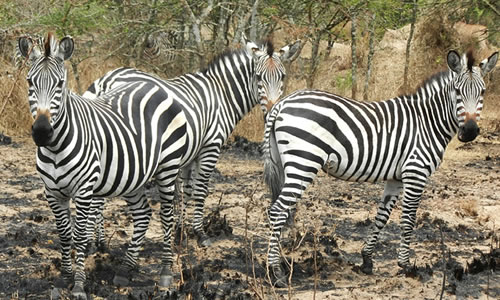 Lake Mburo National Park is homes of different species of about 68 mammal species include Zebras, Impala, Buffaloes, topi, eland, bushbuck, warthog, leopard, hyena, and jackal. Lake Mburo is the best place in Uganda to see the leopard, especially during night game drives and it has no elephants and lions making it an ideal place for walking safaris. Its sculptured landscape with rolling grassy hills and idyllic lakeshore has a varied mosaic of habitats forest galleries, seasonal and permanent swamps and rich acacia wood valleys which all support a wealth of wildlife.
Birdlife in Lake Mburo
The park has more than 315 different species of birds including the rare shoebill stork, papyrus yellow warbler, African finfoot, saddle billed stork, brown chested wattled plover, Carruthers Cisticola, Tabora Cisticola, great snipe, Abyssinian ground hornbill, African fish eagle, saddle billed stork, and white-winged warbler. The woody vegetation of Lake Mburo is dominated by Acacia species, Olea species, and Boscia species. Lake Mburo is the best place in Uganda for acacia-dwelling birds; fringing swamps in the park also hide secretive papyrus specialists such as the red, black and yellow papyrus gonalek. Lake Mburo National Park is also a place to find southern species at the northern limit of their range, including the black-collared barbet and southern ground hornbill. Migratory birds are present from November to April.
What to do in Lake Mburo National Park
Boat cruise
Boat trip brings you closer to observe mighty hippos and crocodiles, antelopes, buffaloes, and over 3 types of otters that are found in the lake. Waterbird species are often too numerous for even the keenest birder to identify them all including malachite kingfishers, African Fish eagles, blue-headed weavers, Rufus long-tailed starlings, the pied kingfishers, hammer, kobs, Herons, pelicans, the rare shoebill as well as the cormorants. These great wildlife experiences coupled with the stunning scenery and panoramic landscape views will really impress upon you true African beauty.
Bird watching
The park hosts about 313 different bird species making the best spots for birding in this park including the rare Coqui Francolin, Emerald-spotted Wood, Rufous-bellied Heron, Bateleur, Brown-chested Lapwing, Grey Crowned Crane, Bare-faced Go-away-bird, Red-faced Barbet, Green Wood-hoopoe, Red-headed Lovebird, Ross's Turaco, Black-bellied Bustard, Nubian Woodpecker. Birds include malachite kingfishers, African Fish eagles, blue-headed weavers, Rufus long-tailed starlings, the pied kingfishers, hammer, kobs, Herons, pelicans, the rare shoebill can be observed on the boat trip.
Fishing in Lake Mburo
Lake Mburo has around 6 species of fish with Tilapia being the most common one. The most fishing spot is at Mazinga the travelers that are planning to carry out fishing here should bring their own fishing gears and then get a permit from Uganda Wildlife Authority.
Horse riding
Horse riding Safari in Lake Mburo Park is a safe and sane experience with knowledgeable guides as you explore the rolling savanna of Lake Mburo National Park –horseback riding gives you the best way of viewing the wildlife that found in the park including Giraffes, Giant Elands, also Topi, Impala, Duikers, Bushbucks, Waterbucks, Burchell Zebras, these can also last between 1 to 3 hours as you enjoy the scenic beauty, Birds, Vegetation of the Park. You can also enjoy overnight horseback riding that can be offered with tents as well as meals in the wild.
Nature walk
Lake Mburo is open to the walkers as well as they are followed by the ranger guide. At Rwonyo, the guided walk will lead you to the salt lick where you will find many animals that are attracted to the salty rocks.
Forest walks Rubanga
The forest also gives many habitats that are great for the birders making it so special for the bird watchers. There are also 40 bird species in Rubanga, making 5 of them being specialists as well as exploring a close canopy for Rubanga forest.
Guided bike rides
This is the best way of getting closer to nature as another way of adventuring Lake Mburo with its surrounding area. Riding a bike in Lake Mburo brings you closer with wildlife animals such as zebras, antelopes, buffaloes which can last from 1 hour. There are so many challenging options or the avid mountain biker due to the terrain of the lake is also diverse in nature.
Igongo cultural center
This cultural center has got many traditional grass huts on the display and the guides will always explain to you about the way of life of these people in the past. You will also enjoy the museum and then learn more about the ways of the local cultures, there dairy farming and video played narrating their traditional norms, and then you will enjoy the local food that is served in their beautiful gardens or restaurant, and the great roasted goat that is offered here, it's really a good stopover or the cultural, history and the traditional lovers, which is just 4 kilometers from Sanga gate.
Where to stay
The park has also got few accommodation facilities to include Mihingo safari lodge-luxury, Montana Tened camp-luxury, Arcadia cottage-midrange, Mburo safari lodge-midrange, Rwakobo rock-midrange, and Eagle's Nest-budget, Rwonyo rest-budget and conservation education center.
How to get to Lake Mburo National Park
Lake Mburo National Park is located in the western part of the country and it's over 240 kilometers from Kampala. This drive also takes over 3 to 4 hours. The Entebbe International Airport is also about 46km/29metres from Kampala, the capital city of Uganda.