Kibale Forest National Park is located in western Uganda spanning Kabarole and Kamwenge district. The Park is a home of 13 Primate Species including over 5000 Chimpanzees and it counts as the biggest number in East Africa. The Kibale National Park sites on an area of about 795 square kilometers in size lying on an altitude that is estimated to be 1,100 meters (3,600 ft) to 1,600 meters (5,200 ft) in elevate. Visiting Kibale Forest allows you to discover another world beyond Savannas and arid plains, Chimpanzee Trekking, hiking, biking, Crater Lake Hikes, Caving, Cultural Visit, Bigodi wetlands sanctuary known as a haven of bird species – teamed with Primates, Birds, and Mammals.
Wildlife in Kibale Forest National Park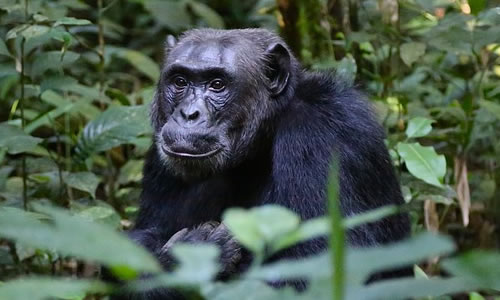 Known primarily for its chimpanzees which are the most seen, chances of viewing the chimpanzee in their natural state are over 90 percent but not guaranteed. And the most regularly seen mammals are the black & white colobus, red-tailed monkey, blue monkey; olive baboon, grey-cheeked mangabey, bush baby and potato are among the other primates. Several nocturnal primate species are present as well, including potato, Demidov's dwarf galago, and the eastern needle-clawed bushbaby. The very specialized sitatunga antelope can be found in the marshy areas. Other terrestrial mammals that are found within Kibale National Park include red and blue duikers, bushbucks, sitatungas, bush pig, giant forest hogs, common warthogs, and African buffalo. The carnivores that are present include leopards, African golden cats, duiker, several different mongooses and two species of otter.
Birdlife in Kibale National Park
Kibale National Park has an impressive number of bird species which is home of about 325 bird species some of which are; Â the Black-capped Apalis, blue-headed sunbird, Collared Apalis, purple- breasted sunbird, and many others. Additional to that of the countable natives of Albertine Rift destination, which are dusky Crimsonwing, Black-capped Apalis, blue-headed sunbird, Collared Apalis, red-faced woodland warbler and purple-breasted sunbird which are six in numbers.
Chimpanzee Trekking in Kibale Forest National Park
Trekking chimpanzee in Kibale National Park has two sessions which both start from the Kanyanchu Visitor center, morning and afternoon session. Trekking chimpanzee in a protected area known for moist evergreen rain forest in Kibale National Park is an enriching experience in Uganda and is a very rewarding experience in the most sought after primate by visitors, but you should look out for the black & white colobus, red-tailed monkey or the grey-cheeked mangabey. Your guides will be able to show you pittas & different bird species and will give details of the tradition of the plant species within the forest. This walk is for 6 people in a group. Advance booking is all-important, especially during Peak Sea.
While on your chimpanzee tracking experience, you will be able to meet other primates other than the chimpanzees and some other mammals such as the forest elephants, duikers or buffaloes on your lucky day. Chimps can be spotted busy feeding on fig tree or you may also meet them on the ground. Chimp tracking gives you an opportunity to see the chimpanzees in their natural setting busy breastfeeding, some even breeding, grooming each other, and you will be able to see their real-life setting and also you will be able to hike and see some other tree species. Many butterfly species do exist within the park, you also be able to watch the butterflies.
Bird watching
Birding in Kibale is one of the most suitable activities in Kibale Forest National Park; birding is normally conducted in Bigodi Wetland Sanctuary, a superb community development enterprise located on the fringe of Kibale National Park in Magombe Swamp.  The Sanctuary itself has 138 species of birds that can be easily seen on any of the guided tours along the boardwalk trail or from the many viewing platforms situated throughout the Sanctuary, bird species include Black-crowned Waxbill, White-spotted Flufftail, White-breasted Negrofinch, Yellow-spotted Barbet, Black Bishop, Hairy-breasted Barbet, Bocage's Bush-shrike, Yellow-billed Barbet, Brown-crowned Tchagra, Black & white Shrike-flycatcher, Western Nicator, Superb Sunbird, Grey-winged Robin-chat, Brown-throated Wattle-eye,
Nature walk
This is the most attractive part when you're in Kibale forest park, Hiking and nature walks are some of the most rewarding activities done within Kibale National Park and in nearby places of Kibale Forest National Park. You can take a hike following a trail that goes across the length of Kibale Park. There are various places you can go to for a day time-hike. Hiking gives you the opportunity to see diverse habitats as you walk through the forest, you will find rivers, go through swamps and grassland.  The most popular swampy area near Kibale is the Bigodi Swamp. Chimpanzee Habituation Experience offers you an opportunity to experience your life.
Visiting Abameere ganyina'mwiru Caves
Visiting Abameere ganyina'mwiru Caves is one of the amazing caves which have a lot of natural wonders as well as cultural legends attached to them which will not leave you the same.
Visiting Nakayima Witch's Tree which is traditional worship and cultural site, its located on top of a hill along the road to and from Kibale National Park, therefore, it has a really beautiful view and it's most known as the Witch's Tree.
Stunning breathtaking scenery on beautiful crater lakes near Kibale National Park, taking a hike to the crater lakes is worthy a while, it takes over about 3 hours, where you pass through villages, walk past tea plantation as you enjoy the beautiful scenery once you reach on the top.
Where to stay
The park has luxury excellent accommodation such as Ndali lodge, primate lodge, crater safari lodge, Kyaninga lodge, and papaya lake lodge. Mid-range accommodations which offer perfect service for the visitors include chimpanzee forest guests house, chimp nest, Kibale forest camp, a mountain of the moon hotel. Budget accommodation is also available which meets the customer's needs which include Rwenzori view guests house, Nkuruba nature reserve, and community campsite as well Nyinabulitwa country resort and safari resort
Best time for visiting Kibale
The Dry seasons (from June to July and December to February) are the best time for tracking chimpanzees. The park stays open throughout the year, but in heavy rain, the trails might be difficult to walk and the overall experience might be compromised.
How to get to Kibale National Park
Kibale National Park is situated in western Uganda 26km south-east of Fort Port, from Kampala to Mubende as well as Fort Portal through Northern part. In the southern part, you can use Mbarara or Kamwenge road to get to the park.