Our 6 Days Flying Safari to Kidepo Valley and Murchison Falls National Park in Uganda gives you a total Uganda experience of total safari adventure from flying to Kidepo and to Murchison fall National Park. Kidepo National Park situated in the rugged, semi-arid valleys of Karamoja in province valley in the far northern border with the Sudan, Kidepo Valley is Uganda's most remote national park which sites on an area of 1,442 square kilometers. Kidepo National Park is one of the best virgin places in East Africa where wildlife can be viewed best in Uganda with over 75 species of mammals in the park 28 cannot be found in any other Park in Uganda Caracal, Stripped Hyena, Aardwolf, Cheetah, Bat-eared Fox and Hunting dog and is the second to Queen Elizabeth National Park which has 625 bird species. Murchison Falls National Park located in the in the North-West of Uganda in Masindi District at the end of the Albertine Rift Valley which is the largest and oldest national park in Uganda. Being the largest and oldest park in Uganda, is the home of wildlife which harbors 76 mammal species with the big five animals include lion, leopard, rhino, elephant, and buffalo with anther so many wild animals where some are mostly spots on riverbanks include elephants, giraffes and buffaloes; while hippos and Nile crocodiles which offers you the most amazing experience to see and is the third birding National of about 450 birds species makes it one the best places in Africa to find the prehistoric-looking shoebill stork.
Day 1: Fly to Kidepo Valley National Park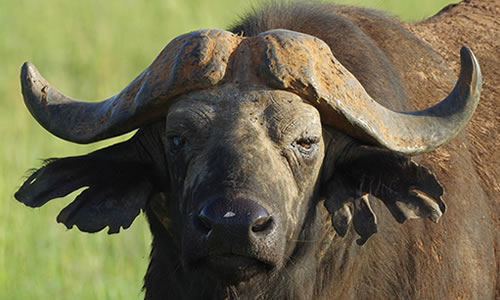 Our guide/driver picks you at from your hotel or place of resident in Kampala/Entebbe for your transfer to Entebbe International Airports to catch up with a scheduled flight to Kidepo valley National Park. The Flight time is at 1230 arriving at 1445. The Park is a completely different world of vast plains, in spring view from every vantage point, with a lot of wildlife as you drive into the park. Kidepo offers breathtaking open savannah which is surrounded by spectacular mountain landscape nowhere to be seen in Africa! Kidepo Valley National Park is Uganda's second biggest National Park one of Africa's finest  wilderness areas, This evening you will take a sunset game drive  in the Narus valley  in search for the lions, Jackson hartebeests, buffaloes, giraffes, leopard and cheetah. Dinner and overnight at Apoka Safari Lodge/savanna lodge. Meal plan Dinner
Day 2: Kidepo valley National Park – Game drive to Kanangorok hot springs
Early morning for breakfast, catch the sun rise behind the mountain before flooding the valley then off for the game drive to the ostrich farm it not any man made occurrence, but given the massive number of birds one would observe along the way, herds of elephants, cape buffalos, giraffes, lions and then the hot springs at kanangorok, lunch at Apoka safari lodge. In the afternoon have a cultural experience that will bring into contact with Karamojong peoples at Karenga and Kapedo. Meet the local elders and have an opportunity to interact with them. They will show you the kraals, the grinding stones and many more interesting items. Dinner and overnight at Apoka Safari Lodge/savanna lodge. Meal plan Breakfast, Lunch and Dinner
Day 3: Kidepo Valley National Park- Guided nature walk
After an early breakfast, you will be joined by an expert ranger guide for a nature walk to explore the park on foot away from the steel clad of safari car sharing his knowledge of the eco-system and also bring you closure to the animals and for birders, look out for Fox Kestrel, Eastern Chanting Goshawk, Grasshopper Buzzard, Montague's Harrier, Fan Tailed Raven and the very rare Stone Partridge. The afternoon is spent on relaxation and sightseeing around the lodge OR choose to have an evening game drive for more wildlife and game, overnight stay at Apoka safari lodge/savanna lodge. Meal plan Breakfast, Lunch and Dinner
Day 4: Kidepo-Fly Murchison Falls. Flight leaves at 1300hrs
On this day we have early breakfast, drive through the park, giving chance to see elephants, buffalos, different kinds of antelopes towards Katarum gate making a stop at katarum kopje a site of the derelict lodge built in the rock but currently under renovation to have a bird eye view of the park, after prepare your selves to catch up the flight to Murchison Falls. You will meet our guide on arrival for your ground transfer to Parra Safari Lodge/Bakers lodge/Fort Murchison for relaxation and overnight stay Meal plan Breakfast, Lunch and Dinner
Day 5: Game drive and Boat trip at Murchison Falls National Park
After your cup of coffee, you will embark on morning game drive where you expect to spot Elephant, Lion, Cape buffalo, Rothschild's giraffe, hartebeest, Waterbuck, Oribi, Bushbuck,  Bohor reedbuck, hyena and if you are lucky, the leopard. Return to the hotel for breakfast and lunch. After lunch, go for a boat safari upstream the calm Victoria Nile to the base of the falls stopping just tens of meters from the "Devil's Cauldron". En-route, marvel at the toothsome hippos, crocodiles and over this 17 km stretch you may see elephant, waterbuck and Uganda Kob crocodile.  This is also a zone of many bird species like Goliath heron, Egyptian goose, pelican bee-eater, kingfisher, hornbill, cormorant and the rare shoebill stork.
There you leave the boat and start your – quite heavy – hike to the Top of the fall (approx. 1 hour). See where the world's longest river explodes violently through a narrow cleft in the Rift Valley escarpment to plunge into a frothing pool 43m below. Your driver/guide will be waiting for you to bring you back to the lodge. Overnight and dinner at Parra Safari Lodge/Bakers lodge/Fort Murchison lodge.
Day 6: Ziwa Rhino trekking and transfer to Kampala.
Enjoy you're early morning breakfast thereafter proceed for another Game drive in the morning on your way to Ziwa Rhino Sanctuary for Rhino tracking; here you will find both black and white rhino and there after drive back to Kampala as you enjoying the beautiful scenery.
End of the 6 Days Flying Safari to Kidepo Valley and Murchison Falls.
The 6 Days Flying Safari to Kidepo Valley and Murchison Falls package includes;
An English speaking full-time professional driver guide
All parks entry fees
Flight ticket to Kidepo valley and Murchison falls
Accommodation- Full board while on safari
Ziwa Rhino trekking fees
Ground transport safari vehicle
Boat cruise fees
Guide Nature walkGame drives
Ferry crossings
Lunch en-route
Ranger guide
Bottled drinking water
However, the 6 Days Flying Safari to Kidepo Valley and Murchison Falls excludes;
International flights, Personal Travel insurance, Visa Fees, drinks, cigarettes, tips, souvenirs and any other items of personal nature.