Jinja is the adventure capital of East Africa and the source of the longest River in the world. The adventure activities include; the legendary white-water rafting on the Nile, source of the Nile boat experience, bungee jumping, kayaking, jet boating, Fishing, bird watching, squad biking and horse riding in communities along the Nile.
Day 1: Ssezibwa Falls, Mabira Forest Walk and boat trip to the source of the Nile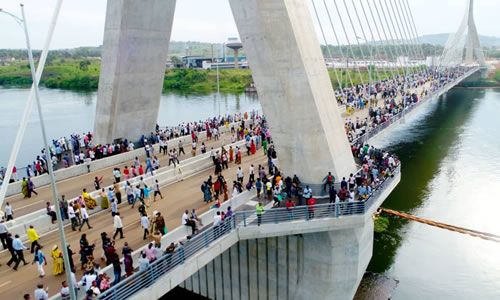 The journey to Jinja goes through beautiful scenery of plantations of sugar and tea, and colorful roadside fruit markets. Our first stopover is Ssezibwa falls a beautiful Buganda kingdom cultural site with an interesting legend about origin of the river and Ssezibwa falls.
Our next stop will be a hike through Mabira Forest; learning about the rich heritage of the Uganda people who lived in the forest and opportunities of sighting or listening to different bird species, beautiful butterflies, primates, and tree species.
Finally, the highlight of your trip – a boat ride to the "Source of the Nile" at the now submerged Rippon Falls. This is where the Nile starts its 4000-mile journey to the Mediterranean Sea from Lake Victoria. The boat ride can take between 30 minutes and one hour. You will be able to see the place where river Nile starts to separate from the waters of Lake Victoria, the largest lake in Africa.
Accommodation and meal plan.
Day 2: Full day White Water Rafting on River Nile in Uganda
Today is an adventurous active day on river Nile. After breakfast, you will transfer to the briefing place before you start your day on River Nile. You will go white water rafting on the longest river in the world for a fulfilling adventure. The white-water rafting goes through some of the best grade five rapids with spectacular leaps and drops; enjoy the scenery of forested islands and the roar of various waterfalls. Wooden canoes with locals congregate in the calm waters anxious to see the rafts in action and fisher men as they go about their business. You have opportunity to swim whenever you reach the spots where the water is placid before you start the rapids again. This is an adventure in the pearl of Africa on the world's longest river.
Optional activities
These are possible if you choose to take half day water rafting. Some of the activities you can do while in Jinja are bungee jumping, squad biking, horseback safari, kayaking, jet boating and walk in the nearby communities and visiting Samuka Island.